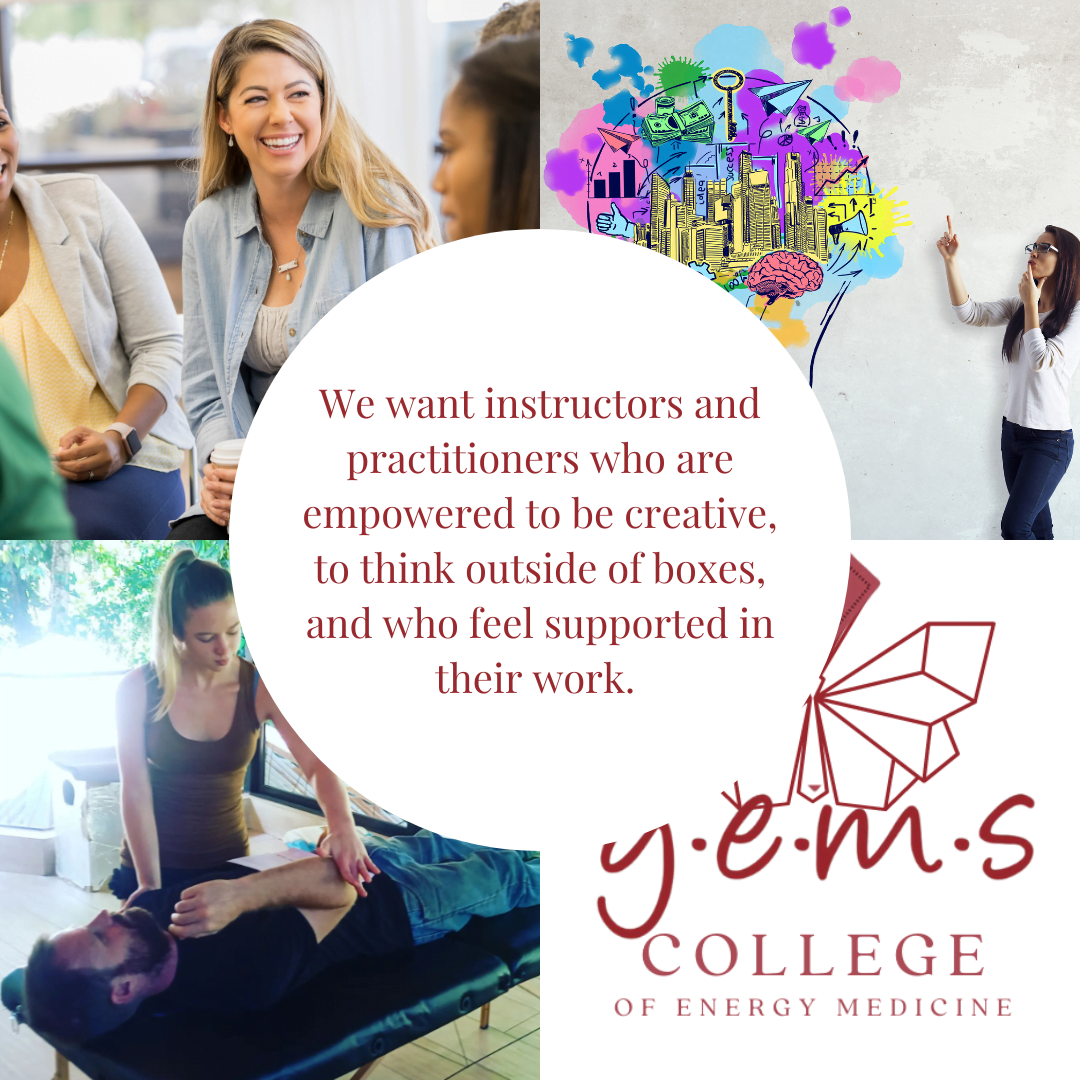 What is it all for?
If you've gotten here, you're probably already interested in exploring energy medicine and specialized kinesiology as a career. But why GEMS College? What exactly are we trying to do that is different from the way that things have traditionally been done?
GEMS College of Energy Medicine offers membership programs and classes for people who want to be alternative health practitioners and are looking for something different than the pathways they have been offered up until now. We want to create space for instructors and practitioners to feel empowered to be creative, encouraged to think outside of boxes, and supported in their work. This isn't about blindly following protocol; this is about understanding the theories and why we do things, so that each practitioner can take techniques apart and put them together in the best possible way for each individual client/student.
This means integrating our modalities and knowing there are always options. There is more than one way to do a session, and we want to help you find your style!
Your style is unique. Whether you're an educator using bits and pieces of protocols to help kids on the go, a young practitioner trying to start your first career, or an instructor looking to take on a leadership role… GEMS College has the tools to help you refine your craft into something that fits you.
We like to bring a more gentle touch to the industry, focusing on flow, understanding, and the individuality of each person's process. We see this as a more creative, gestalt way of approaching energy medicine. While the majority of muscle testing practitioners are women, most of the courses are written by men with a more protocol-based focus. By filling any gaps there are for different learning styles, we hope to empower all practitioners, especially the many women who carry our field and the young energy workers joining our ranks, to feel seen and supported in their new and personal ways of working. This includes roles as practitioners, instructors, content creators, organizers, and leaders.
In order to do this, we offer a lot of classes with a growing network of instructors and modalities. But the real GEMS College support comes from the other components of our Membership. Membership is about everything that happens between workshops; supporting connection, learning, and business development. It includes the ability to book one-on-one time with mentors, engage in co-work spaces, see how others conduct their sessions, talk about your own research and reading, compare notes, exchange balances, brainstorm marketing ideas, chat in our private server, and more! For many, this is the missing step between, "I took this great class… now what?" and feeling confident working with people and putting yourself out there.
You can book a free session to chat with our Learning Facilitator, sign up for the newsletter, or become a member through the website or by emailing insight@gemskinesiologycollege.com