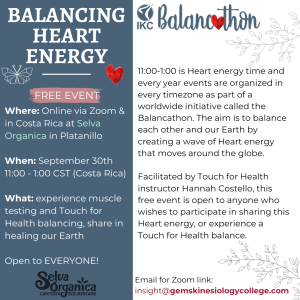 Touch for Health is a holistic health modality that uses muscle response testing as a biofeedback mechanism to translate the body energy systems. We test muscles not for their strength but to better understand where there is stress in the body and empower people with tools to heal themselves. Your body already knows what's wrong and how to fix it, sometimes it just needs a little help clearing up the blocks. This is the basis of Touch for Health (TFH) and the broader field of Specialized Kinesiology.
The Balancathon is an initiative run by the International Kinesiology College (IKC) which oversees TFH globally.
"Every year, on the last Saturday in September between 11am and 1pm when Heart meridian energy is at its peak, the IKC Balancathon takes place in all time-zones around the globe. Using self-help, holistic energy-balancing techniques from Touch for Health, we create and send out a Mexican wave of Heart energy to the Earth, the people and creatures of this planet, the seas and skies. Be part of the wave!
"By participating you will benefit from and help create a wave of positive energy that will travel around the earth, heart to heart, one time-zone at a time." – https://ikc-balancathon.org/worldwide-event/
During our local event at Selva Organica in Platanillo de Baru, we will connect with local practitioners and people interested in participating and learning more, as well as online members of the larger Specialized Kinesiology community. Touch for Health instructor Hannah Costello will lead the group in a "muscle dance" which activates the 14 energy meridians through muscle movements, and a "time of day balance" which serves to strengthen the Heart energy we hope to build and share through this experience. This section will be recorded and those who do not wish to be on camera during this time will be allowed to participate outside of the recording. After that group activity we will have informal balancing time, where local practitioners and students of TFH can practice their skills, and anyone who wishes to experience a TFH energy balance will have the opportunity to work with someone there. Online participants are invited to attend with a friend they can practice with, or those who are comfortable with working at a distance can be placed into breakout rooms.
If you are interested in taking a Touch for Health class, you can find a local workshop with Hannah here: https://gemskinesiologycollege.com/events/touch-for-health-level-1-5/
Please feel free to reach out with any questions!
You can reach Hannah at insight@gemskinesiologycollege.com or +506 7222 6375