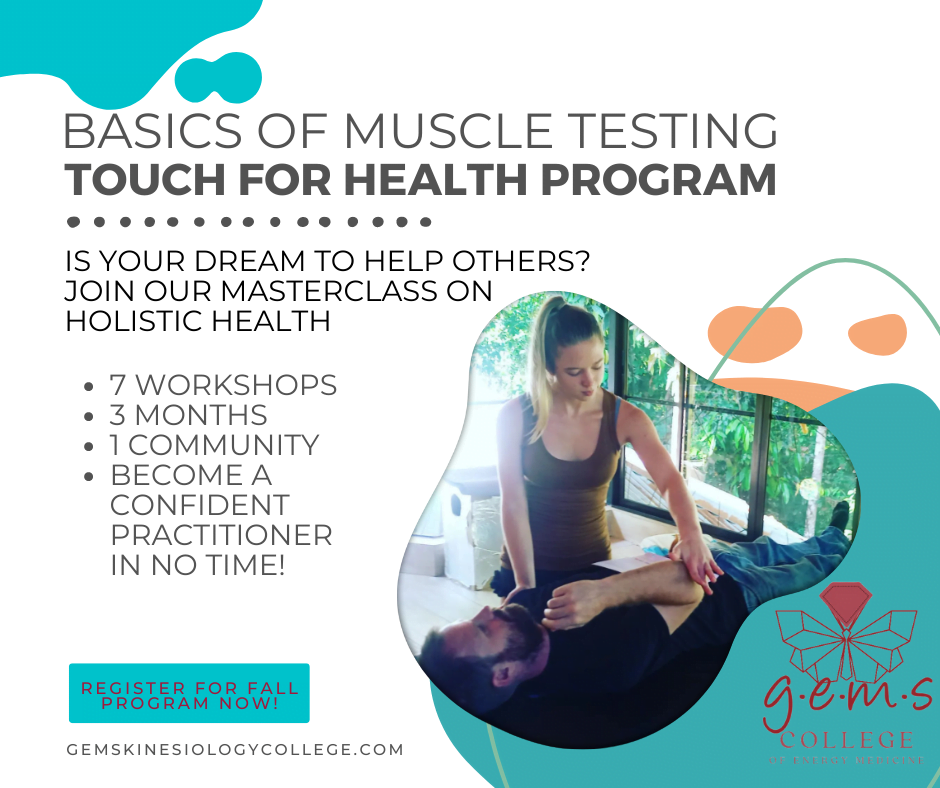 If your dream is to help people (including yourself) reach their full potential in health but you're not sure where to start; welcome! You've come to the right place.
The Muscle Testing Basics – Touch for Health Program will take you from your very first muscle test all the way through confidently conducting a session with a client, in just 3 months, with all the support you could ask for along the way.
Very few post-secondary school programs will give you a complete set of practical, marketable, and world-changing skills without putting you in debt. If your goal is to help others, improve your own health, or pursue a career in holistic health, we truly believe this Program will provide you with the best return on investment of your money and time. Even if you never take a single client, the knowledge you gain will continue to support you through every other part of your life, and the community will always be here for you.
Price is in $USD.
If you are living in Costa Rica and would like to attend this Program with us in person, please contact us at insight@gemskinesiologycollege.com so we can make that happen!
How it works
This is not 3 months of consistent instruction, instead it is 6 weekend workshops with plenty of study, practice, and community time in between to make sure you have the opportunity to integrate and use the information you learn in class. This also means you can take this program alongside other studies, work, childcare, etc. you may have on the go.
Every second weekend will contain 15 hours of online instruction in the certified workshops linked below. Our Touch for Health courses are taught by International Kinesiology College (IKC) instructors. These certificates are recognized around the world.
The included Membership to the College will give you access to Study Hall times during the week to research and practice, Office Hours with our Mentors to ask specific questions, our Discord server for shared community space, and other resources to make this an incredible learning experience. This Membership will be activated at the beginning of September so you can make the most of this Program, and it will continue to support you with all these resources until next September, when you can choose to renew.
What's included
(links to course catalog for more info on each workshop)
The Touch for Health Complete Synthesis (levels 1-4) (60 hours)
Touch for Health Goal-Setting and 5-Element Metaphors (15 hours)
GEMS Flow (7.5 hours)
GEMS Intro to Business (7.5 hours)
One-year Membership to the GEMS College of Energy Medicine
Total value: USD$2300
Requirements
No experience necessary, just a willingness to learn and practice.
Read our Code of Ethics.
Purchase the Touch for Health Complete Edition and have it in your possession before the start of the Program.
2022 Fall Schedule
Registration deadline: September 1st
Class times are listed in Central Standard Time. Other timezones are not noted here in detail because many places change to or from Daylight Saving Time in the fall. Costa Rica is in CST all year round and as that is where we are teaching from it is the one we are scheduling in. Please change the class date in this converter to see what time class starts in your timezone! 
September 10th – 11th 9:00 – 17:30 CST: Touch for Health level 1
September 24th – 25th 9:00 – 17:30 CST: Touch for Health level 2
October 8th – 9th 9:00 – 17:30 CST: Touch for Health level 3
October 22nd – 23rd 9:00 – 17:30 CST: Touch for Health level 4
November 5th – 6th 9:00 – 17:30 CST (click to event for more info on time zones for Nov 6th): TFH Goal-Setting and 5-Element Metaphors
November 17th – 18th 10:00 – 18:30 CST: GEMS Flow and Intro to Business
Course Features
Lectures

0

Quizzes

0

Duration

Lifetime access

Skill level

Beginner

Language

English

Students

0

Certificate

No

Assessments

Yes
Requirements
Purchase Touch for Health Complete Edition