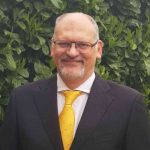 Marco Rado (he/him)
Marco Rado hails from the scenic town of Bergamo, in the Lombardy region of Italy. With a background in physiotherapy, Marco began his kinesiology journey 30 years ago, utilising many modalities, in particular, Applied Physiology, that has studied in the USA and Germany.
With a passion for Traditional Chinese Medicine and manual therapies such as osteopathy and fascial manipulation, Marco has broadened his studies in these areas to increase his knowledge and skills.
In 2003, he began writing his own courses, integrating western science and traditional eastern medicine.
While he still teaches Applied Physiology, he also has created 15 workshops, that used to go under the name of Integrative Physiology, but now he has changed it with K-Physis.
Marco, together with his wife Monica, has founded his professional college "Physis – International Institute of Kinesiology" where he teaches Applied Physiology and all his own classes.
He's also co-author of the first Kinesiology WebApp, called Knowlative – Cooperative Knowledge.